Print Services
Web Services
signs boards and banners
Sherwood Design and Print is the number one store front signs maker helping businesses maximize their brand exposure. We know your business deserves a sign that works as hard as you do. We have taken the guesswork out of effective advertising by conducting research and studies. We know how to design signs and banners that increases business.
No matter what industry you are in, we will help you find the right signs and banners to increase your business. We are a full service sign shop providing our customers with attention-grabbing and professionally designed signs to visually connect with their visitors and clients. Everything our graphic designers will do is custom and designed to meet your business needs. They will determine the best signs for your target market, and location. We will work with you to find an option that is customized to your business needs.
At Sherwood Design and Print, you will find store front signs in a wide range of designs and materials. All our signs are created with your budget and design aesthetic in mind. We will strive to represent your business with the best possible signs and banners.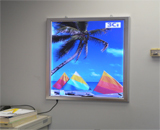 LED litebox
Size 24" x 36"
w/power line & printed graphic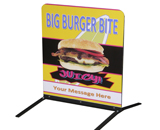 Size : 24" x 36"
2 sided sign & stand
w/printed graphic on both sides
Request a Quote