Are you a marketing agency, ad firm or a business owner with big ideas?
Sherwood can help you transform your ideas into reality.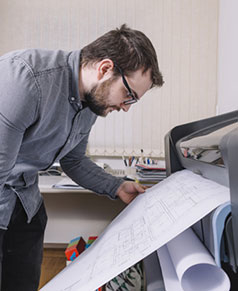 Since 1984, we have offered comprehensive and versatile design and print services across all mediums for businesses big and small. Our creative portfolio spans from bespoke print services to customized signage to ROI-generating web solutions. So, if you're looking for a well-designed and unforgettable brand appearance to make your brand recognisable in this crowded market, you can trust us for the job.
PRINT SOLUTIONS: Did you know that over 40% of all online searches are influenced by offline channels? No matter how digital the world becomes, some things are simply essential for every brand – like flyers and business cards. Whatever your print vision, we can help you print your ideas to life. Our team of print experts is here for you, and we care about quality as much as you do.
SIGN SOLUTIONS: Want to communicate your marketing messages or brand image on a grand(er) scale? Well, we can help you with that, too! We can take care of all of your extra-size promotional needs and offer sign solutions that catch the eye and inspire the imagination.
WEB SOLUTIONS: Getting your branding consistent off and online is really important. Our team of web experts gets to know your brand, which helps us offer you great web solutions that fit with your existing brand identity. We can take care of anything from logo and website design to SEO and web hosting. 
Explore Portfolio
Why should you choose us?






Our Client Reviews

I have worked with Sherwood several times and have never had any problem. The work they do is very high quality and most recently was able to deliver to my location, same day during a... Derek Martin

Shruti and the team were able to work with my vision and bring their own professional insight and passion into designing and printing both a new logo and vehicle graphics for my company. Thank you... Backyard Groceries

Shruti and her team at Sherwood Design were awesome! They delivered quality work in a timely manner for all of our designs! They were professional, courteous and only delivered the work when we were completely... Archna Bhardwaj

Very impressed by their customer service, follow up and design work. I would highly recommend Sherwood design and Shruti's team. Sandy Santucci

Quick & Fast! Really happy with the job done! Amanda Zeni

Sherwood Design & Print has delivered an excellent product in a very fast time frame. Shruti and all the employees are great to work with. I would highly recommend to anyone Realtor Kalpesh Shukla
If you have any questions let us know. We'll get back to you